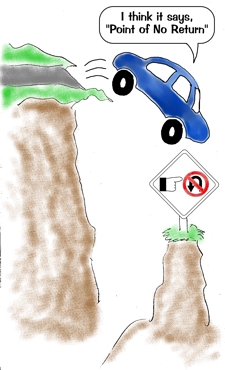 I once thought about doing a comic strip, Signs of the Times. It would have been all sorts of jokes based on signs … ideographic signs (I have some old cartoons I'll post, some I already have) … signs enterprising panhandlers might display … labels on bottles … bumper stickers … advertising signs … any printed messages. Here's one I recently thought of while driving and seeing symbolic signs.
Other signs cartoons of mine: Street Smarts … Another panhandler's creative sign.
Oh, feel free to use this cartoon, just please credit Peter Mucha, Steal My Ideas Please.